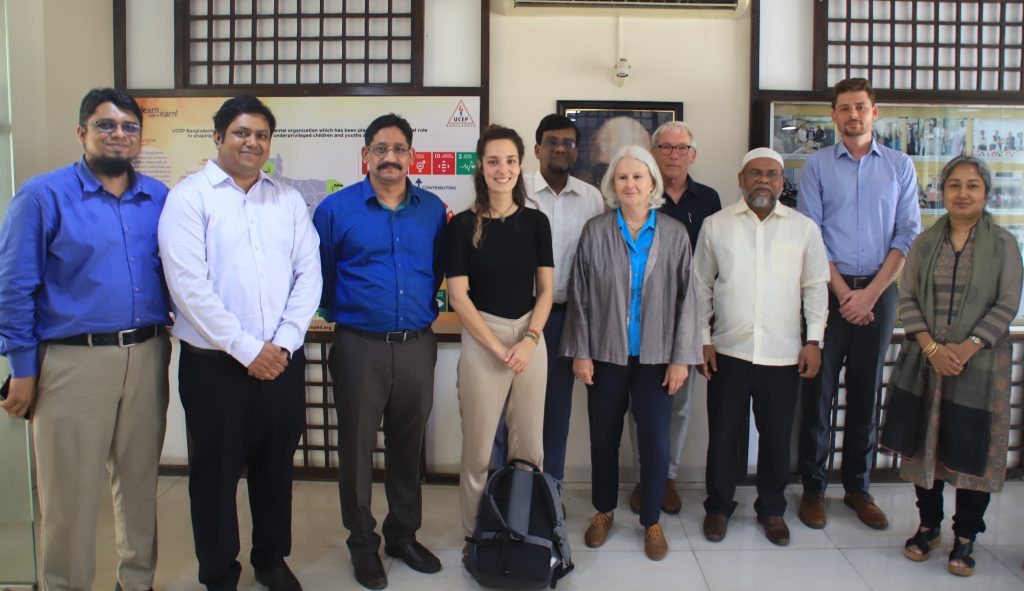 German Development Cooperation (GIZ) representatives, Alexander Dorzenbach, Project Manager, Bettina Schmidt, Technical Advisor, Thomas Lutz, Public Sector Advisory, and Sk. Md. Ashraful Islam, Senior Coordinator-Urban Livelihood Planning visited the headquarter of UCEP Bangladesh on 30th May 2023. The purpose of the visit was to establish potential collaboration for the upcoming INTEGRATE project, set to be implemented in four districts of Bangladesh: Khulna, Satkhira, Rajshahi, and Sirajganj. The GIZ delegation aimed to gain insights into UCEP's activities and strategic priorities, exploring avenues for partnership.
Welcoming the GIZ delegation were members of UCEP Bangladesh's Senior Management Team (SMT), including Mr. Mohd. Abdul Mannan, Director of Programmes and Innovations, Mr. Md. Iqbal Hossain, Director of People and Administration, Ms. Nazmun Nahar, Director of Finance and Compliance, and Innovations, Deputy Director Md. Abdullah Al Mamun, Programmes and Innovations, Mr. Subinoy Dutta, Deputy Director of Resource Mobilization & Communications, and Mr. Md. Anowarul Islam, Regional Manager of Dhaka North Region.
During a productive meeting, UCEP presented a comprehensive overview of their expertise in producing a skilled workforce and reducing poverty. The GIZ delegation acknowledged UCEP's significant contributions in empowering the youth and underprivileged segments of society. As part of the visit, the GiZ team had the opportunity to visit UCEP Mirpur Technical and Vocational Education and Training (TVET) Institute and observed the training sessions in various occupations, including cooking and baking, welding, refrigeration and air-conditioning, and automobiles.
Based on the visit, both GIZ and UCEP expressed their commitment to further explore collaboration opportunities within the INTEGRATE project. Moreover, the visit served to strengthen the relationship between GIZ and UCEP, paving the way for potential partnerships that can make a meaningful impact in empowering climate-displaced individuals and promoting sustainable development.