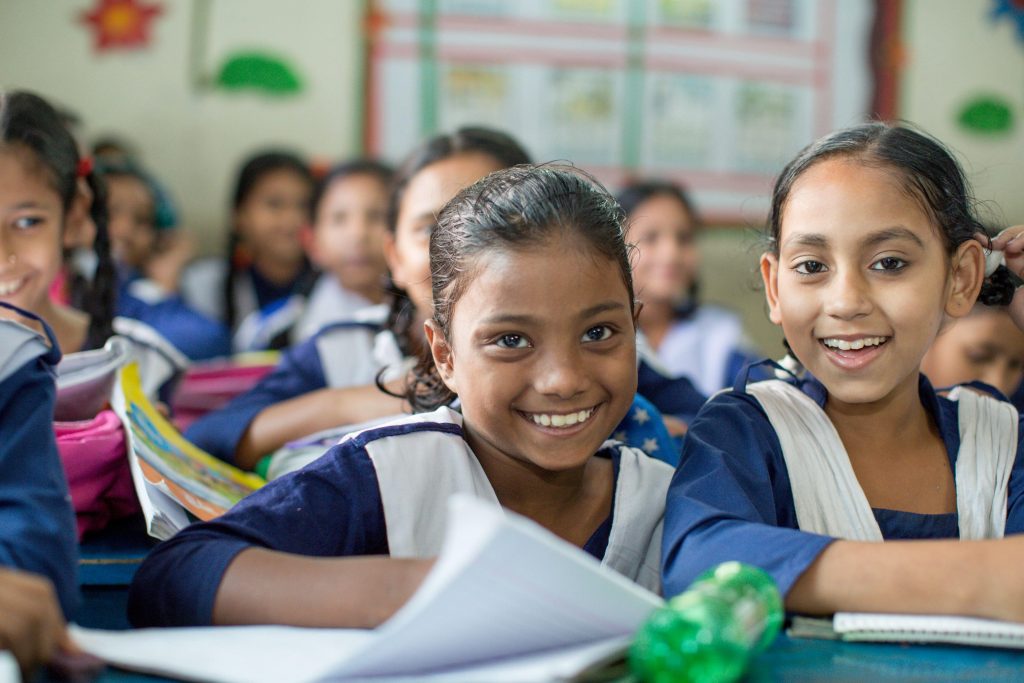 UCEP Bangladesh was established by Mr. Lindsay Allan Cheyne, a New Zealander in 1972. With the motto 'Help to Learn, Skills to Earn', UCEP Bangladesh is a non-governmental organization which provides Second Chance Education to out-of-school children and Decent Work to youth & adults through Technical Vocational Education & Training (TVET) and Skills Development. It has a special focus on Social Inclusion, therefore gives priority to females, children & youth from poor and underprivileged families.
At present, UCEP Bangladesh is governed by the UCEP Bangladesh Association, comprising of 43 voluntary members of whom 7 are elected to serve as the Board of Governors (BoG) for a two years' term. The management of UCEP Bangladesh is led by the Executive Director (ED) and a Senior Management Team (SMT), supported by Regional Management Team (RMT).
UCEP Bangladesh works to bring more children and youth, who have dropped out of school, back to General and Technical Education, as well as engage families and communities to provide support to their children's education, training and employment. UCEP Bangladesh aims to build partnership with the government, employers, organizations and other stakeholders to foster the institutionalization and sustainability process of the efforts and promote the "Leave No One Behind"campaign by focusing on Social Inclusion.
Milestones of UCEP Bangladesh
1972
Established UCEP
Mr. Lindsay Allan Cheyne, a New Zealander, established
UCEP as an int'l NGO
1973
First school
First school started with 60 students in Institute of Social Welfare and Research, University of Dhaka
1974
Hostel Established
A hostel established for 100 working children
1978
Educational Programs
Underprivileged Children's Educational Programs (UCEP) Nepal was established in 1978 and run as an extension of UCEP-Bangladesh under the umbrella organisation UCEP-International till 1992.
1980
General Schools
Two General Schools opened in Chattogram with 350 students
1981
UCEP Khulna
A General School in Khulna opened with 300 students
1982
UCEP Nepal
UCEP 'Torch of Knowledge' relayed from Dhaka to open UCEP Nepal
1983
Technical School
A Technical School opened in Dhaka
1984
UCEP Chattogram
Co-education program for General School started in Chattogram
1985
Integrated General and Vocational Schools
Integrated General and Vocational Schools opened in Dhaka, Khulna and Chattogram
1986
Founder of UCEP Bangladesh
Mr. Lindsay Allan Cheyne, the Founder of UCEP Bangladesh passed away.
1988
Transformed into a National NGO
Transformed into a National NGO through the Voluntary Social Welfare Ordinance Head Office transferred to Mirpur, Dhaka

1989
Staff Established
A cell for in-service training for staff established

1991
Job Placement
Job Placement for Technical School graduates started

1992
Chattogram Technical School
A Technical School in Chattogram opened

1993
20th Anniversary
Observed 20th Anniversary Technical School opened in Khulna

1994
UCEP Rajshahi
General Education program extended to Rajshahi

1995
Basic Skills Training
Para-Trade (Basic Skills Training) Program started in Dhaka and Chattogram

1996
ESCAP HRD Award
Received Runnersup ESCAP HRD Award for 1995

1997
New Projects Initiated
New Projects Initiated- 1. Hard-To-Reach Children (HTRC) 2. Skills Training Program for Dismissed Garment Industry Child Workers

1998
Basic Skills Training
Basic Skills Training for children with psychological and physical disabilities started Received Runners up ESCAP HRD Award for 1997

1999
BSTP in Rajshahi
Basic Skills Training Program in Rajshahi

2000
IGVS Started
Integrated General and Vocational Schools (IGVS) started

2001
A Computer Training Center
A Computer Training Center and a showroom for training products opened at Dhaka Technical School

2002
Pre-Technical Curriculum Started
Pre-Technical curriculum started alongside General Education Donor Consortium formed to create M&E processes

2003
Overseas job placement
Overseas job placement through Employment Support Services

2005
SSC Vocational and General programmes
SSC Vocational and SSC General programmes started

2006
UCEP Cheyne Tower
Construction work for UCEP Cheyne Tower started in Shegun Bagicha

2007
Opened Barishal Region
Two General Schools opened in Barishal Region

2008
Bureau of Manpower, Employment and Training (BMET)
4 General Schools, 1 Technical School and BMET opened in Sylhet Barishal Outreach Centre opened 5 Integrated General and Vocational Schools in Gazipur

2009
Jatrabari School
A Technical School opened in Jatrabari

2010
Rangpur Region
Rangpur Region started operating

2012
ISO 9001:2008
Received certification of ISO 9001:2008 BMET closed

2013
UTI opened in Sylhet
Business Development Department created UCEP Training Institute (UTI) opened in Sylhet

2014
CWRA program started
Child & Woman Rights Advocacy (CWRA) program started UCEP Training Institute (UTI) opened in Dhaka

2015
UIST opened
UCEP Institute of Science and Technology (UIST) opened to offer Diploma-inEngineering Degree

2016
Dhaka South Region started
UCEP Dhaka South Region started operation 9 General Schools closed

2017
Fee-based school started
Groundwork for a fee-based general school completed 12 General Schools closed

2018
Member of NCLWC
Became member of National Child Labour Welfare Council (NCLWC)

2019
Registered under NSDA
Registered under National Skills Development Authority (NSDA)