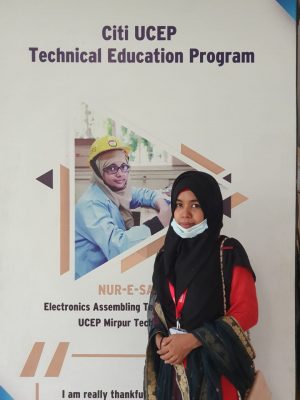 Golonnahar Tamanna comes from a poor family in Bhola District whose father's business was shut down during COVID-19 pandemic. With six children to feed Tamanna's parents passed days in hardship, let alone their education.
However, due to her extreme willpower, Tamanna bore the expenses of her studies giving students home tuition. As she grew older, she could not continue due to the increased expenses. At that moment she was informed about UCEP Bangladesh Skills Training programme by her class mate. Eventually, she took admission at the Electronics Assembling Technician (EAT) trade in UCEP Bangladesh, under the CITI Foundation Project on October 2019. Due to the COVID-19 lockdown, she graduated on October 2020.
After graduating, Tamanna got employment at Edison Group, Savar with the help of UCEP Decent Employment and Entrepreneurship Development team as an Assistant Technician with a starting salary of BDT 7,500. With this income she can now support her family better. She is very much grateful to UCEP Bangladesh as well as CITI Foundation Project for the person she became.