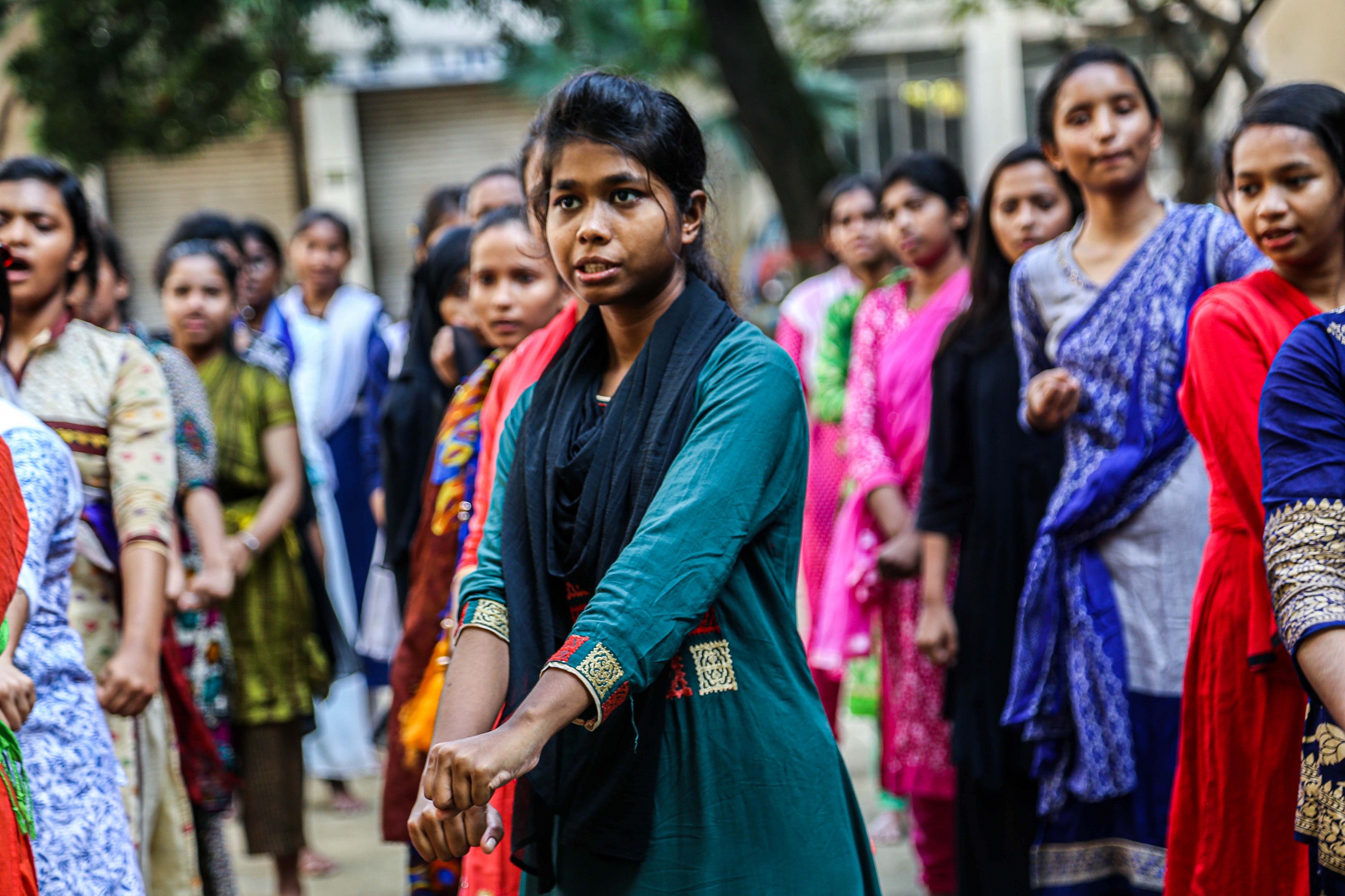 SOCIAL INCLUSION & WOMEN EMPOWERMENT
We ensure equal access to all our services regardless of gender, race, physical or social obstacles. 51% students are female, 10% are People with Disabilities (PWD) and 2% are marginalized groups, contributing to the National Goal of Ensuring Inclusion.
Child & Woman Rights Advocacy and Social Inclusion (CWRA & SI) component was formed in 2014 in a motive to complement UCEP Bangladesh's other three program components Education, TVET & Skills Development and Job Placement, and it is being implemented in the 8 Regions of UCEP Bangladesh. The main objective of the CWRA team is to ensure gender parity and inclusiveness for the girls, Persons with Disabilities (PWDs), ethnic minorities and other disadvantaged groups, establish safe and secured environment across the organization and support gender and disability-friendly learning environments. A Right to Education approach is followed together with a strong focus on the Leave No One Behind campaign.
Leave No One Behind: Addressing the approach, CWRA & SI team engages family members and community parents and community people to be supportive of their education and skills training for the Children and Youth especially the women, persons with disability, ethnic and another disadvantaged group.
Ensuring safeguarding: For ensuring the safe and secure environment in the schools premises (general and technical schools) CWRA & SI team conducts awareness sessions for addressing major social problems like early marriage, sexual harassment and other abusive activities.
Co-curricular activities: The team also plans and executes different types of co-curricular activities like street drama, special day observation (e.g. International Women Day, Literacy day, International Girl Child day, Event for the Violence Against Women-Fortnight), women empowerment campaign and job fair etc. for the dissemination of the programme information.
Strategic Partnership: CWRA & SI team also continues its partnership with organizations like Bangladesh Business and Disability Networks (BBDN) and the Disabled Peoples Organization (DPOs) to explore job opportunities for Persons with Disability (PWD).
This component does the Screening of Learners with Disabilities.
This component ensures gender parity and sessions for the staff.
Story of change (a successful learner/graduate)

My name is Halima. I am about 25 years old. I am the 4th among my siblings and was born without a left hand. Many years ago, my family came to Chattagram in search of better livelihood. But my father only found work as a day labor and had to work very hard. By the time I was born, two of my brothers and sisters were already married and had their own families to look after with their earnings. My parents could not afford to send me to school and wanted to marry me off, like my sister, but was always worried about our hardship and my disability. I badly wanted to study and my parent's inability caused them a lot of frustration. I continued to dream. One day, I came to know about UCEP Bangladesh and became excited to learn that it provides free education to children like myself. I went there and got admitted in grade three in its general school Then I have received technical training in Garments Finishing and Quality Control (GFQC) trade. But even after my certification, I found it extremely difficult to get a job because of my disability. But I did not give up trying. I wanted to get a job in one of the factories in an Industrial Area because I had heard that the benefits are good. The Job Placement Officer of UCEP Bangladesh spoke with the authorities and submitted all the required papers on my behalf. The authority gave me appointment as a regular worker after speaking with me and seeing my interest to work. The factory had transport support for its staff, which helped me greatly. I now earn about US$ 100 with other allowances. I am confident that through my hard work and dedication, I will be gradually able to earn more. I am happy that I am not a burden anymore and can now even help my parents.