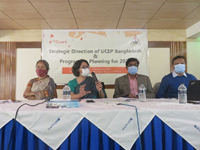 A capacity development session on Project Management was held with the participation of UCEP Bangladesh staff at Brac CDM, Gazipur, organized by the UCEP Human Resource Development and Management department.
The two-day long training was conducted by Mr. Asif U Ahmed, Director, MBA Program and Assistant Professor, ULAB School of Business and also the Acting Director of EMK Center, and Mr. Sajjad Bin Sadiq, Adjunct Faculty, MBA Program, Army Institute of Business Administration and MBA Program, ULAB School of Business.
Ms. Tahsinah Ahmed, Executive Director, Mr. Md. Iqbal Hossain, Director and Mr. Didarul Anam Chowdhury, Director of UCEP Bangladesh were also present during the session.