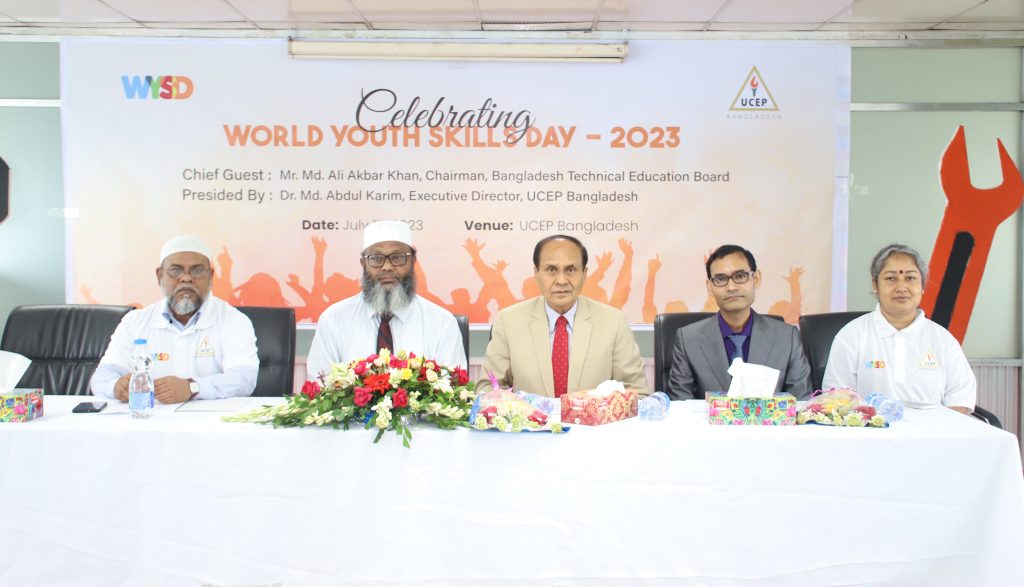 UCEP Bangladesh celebrated World Youth Skills Day on 15th July 2023 in UCEP Bangladesh Head Office, Dhaka. The Chairman of the Bangladesh Technical Education Board, Mr. Md. Ali Akbar Khan was present as the Chief Guest. The event was presided by Dr. Md. Abdul Karim, Executive Director of UCEP Bangladesh and former Principal Secretary to the honorable Prime Minister of Bangladesh.
The Executive Director of UCEP Bangladesh said, there is no alternative to technical and vocational education and training to turn the country's vast human resources into a skilled workforce. In his speech, he also mentioned that UCEP Bangladesh is playing a tremendous role among the NGOs in the expansion of technical education and transforming skilled human resources in Bangladesh. UCEP has the scope to collaborate with the Labor Ministry as it works to create a skilled workforce through the expansion of career-oriented education, said, Executive Director, UCEP Bangladesh
The honorable Chief Guest in his speech praised UCEP Bangladesh for its outstanding contribution to the expansion of technical education and highlighted the significant importance of technical education for youth in Bangladesh. He thanked UCEP Bangladesh for initiating various trainings on professional skills development, entrepreneurship development training and launching courses on the Fourth Industrial Revolution (4IR) and ICT.
He said that these activities of UCEP would help in achieving the country's Sustainable Development Goals (SDG). He expected that UCEP Bangladesh would continue to build a skilled workforce in the coming days.
The program ended with a captivating cultural program performed by the students of UCEP Bangladesh.